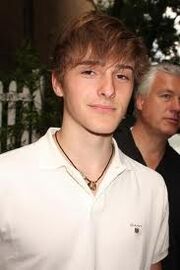 Tristan Samuel Cresthill (known as Tristan or Tris) is a character in BrittanaAndKlaineLover's fanfic "Vocal Fusion." Tristan, created by XIamAweSam, made his first appearance in Season 1, Episode 1 of Vocal Fusion.
The character was originally known as Nathaniel "Nate" Cresthill, but as Nathan Tyler Cosman was an existing character, his name was changed to Tristan.
Original InformationEdit
Full name: Nathaniel Cresthill (changed to Tristan Samuel Cresthill)
Nickname: Nathan, Nate (changed to Tris or Sam)
Age (must be 15-17): 16
Grade: Junior
Gender: Male
Sexuality: Straight
Vocal Range: Baritone Social Status: Popular
Stereotype: The Rich Mr. Heartbreaker With A Deep Secret
Talents: Playing the Piano,Singing,Academics,Dancing,Flirting
Flaws:Heartbreaks, Rejection,His "Secret" Being revealed
Personality: Sarcastic,Boastful,Scheming,Flirtatious,But Nice and Caring deep inside.
Description: Auburn hair,Black eyes,Medium built,slightly muscular
Audition Song: "Everything" -Michael Buble'
Favorite Artists/ Music genre /bands etc: Pop,Ballads,Rock, Greenday, Linkin' Park, Adele,MJ,Maroon 5 Avril Lavigne and Lady Antebellum
Background: He and his family lived a normal life in New Jersey before, He was fat,wears glasses and had a lot of acne. He is teased as ugly, Then one day, He confessed to the girl he liked at middle school, But the girl made fun of him in front of the whole school. After that he promised to himself he will change, He lost a couple of pounds,Joined athletics,Managed to change his appearance and His father got promoted so they became rich. After that, He became a heart breaker, He used girls until he became bored and made himself popular, Until his family have to move to New York
Portrayer: Alex Watson
Other Information: He still loves the girl that broke his heart
In Glee: Vocal FusionEdit
In Season 1, Episode 1, Tristan is shown to be good friends with Charlie John Berry and Daryl Evans, the trio chatting after new principal Mr. William David Hall's first assembly of the year where it is revealed that a Glee Club is being created. They talk about how much they hated former principal Dr. Stephen Beech, Tristan saying that "Mr. Hall seems like a nice guy." The three boys talk about the new Glee Club, agreeing to audition if the others also audition. Tristan reveals that he likes singing, and the three make a deal to audition together. Tristan auditions after Alicia Johnson with "Everything" by Michael Buble. His singing is met with cheers and Mr. James Holloway calls his audition "Great!"
In Season 1, Episode 2, Tristan is walking to class with CJ when the pair meet Matthew Ross. They confirm to Matt that they auditioned for Glee Club, and Tristan encourages Matt to audition as well, saying "you need to do that. It's going to be awesome." Matt decides to audition, and Tristan wishes him good luck before leaving with CJ for class.