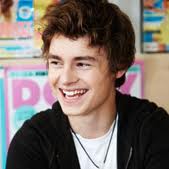 Theodore Finch (known as Theo) is a character in BrittanaAndKlaineLover's fanfic "Vocal Fusion." Theo, created by Unknownperson123, made his first appearance in Season 1, Episode 1 of Vocal Fusion.
Original InformationEdit
Full name: Theodore Finch
Nickname: Theo, T,Ted
Age (must be 15-17): 15
Grade: Sophomore
Gender: Male
Sexuality: Straight
Vocal Range: Tenor
Social Status: In the middle
Stereotype: The Cute, Nerdy Guy
Talents: Telling jokes, singing, studies, giving advice
Flaws: Gets to sensitive, rejection, can't flirt, too careless
Personality: Funny, sensitive, kind, sweet, smart, trustworthy
Description: Brown hair, dark brown eyes, fair skin, thin and his height is the shortest from all guys but tallest from all girls, slightly muscular
Audition Song: Forget You - Cee Lo
Favorite Artists/ Music genre /bands etc: MJ, Justin Timberlake, Pop, Country, Cee Lo, Maroon 5, Katy Perry
Background: His mom died when he's born, he never knew his mom and usually in his spare times he do a little detective work. He always gets rejected when it comes to girls because girls like tough athletic guys not a smart geeky guy. He never gets the perfect girls.
Portrayer:Callan McAuliffe
In Glee: Vocal FusionEdit
In Season 1, Episode 1, Theo is shown to be good friends with Justice Renee Winters, whom he welcomes with a big hug after new principal Mr. William David Hall's first assembly of the year where it is revealed that a Glee Club is being created. The two talk animatedly about their summers, and agree that Mr. Hall is definitely better than former principal Dr. Stephen Beech. Theo and Justice are both excited at the prospect of Glee Club, Justice saying that they could both be the male and female lead singers. They agree to audition before leaving for their separate dorm rooms. Theo cheers Justice's audition, being the second auditionee, and sings "F*ck You" by Cee Lo Green, dancing around while the other kids, and even Mr. James Holloway, stand and cheer. Mr. Holloway is impressed, saying "Wow, that totally blew me away," before Theo leaves the stage for Junette Anabelle Harris's audition.