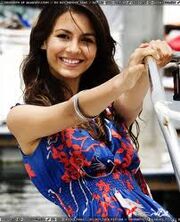 Rachel Cruz is a character in BrittanaAndKlaineLover's fanfic "Vocal Fusion." Rachel, created by Gleek.142, has yet to make her first appearance in Glee: Vocal Fusion.
Original InformationEdit
Full Name: Rachel Cruz.
Nickname: Rach, R.
Age: 16.
Grade: 11.
Gender: Female.
Sexuality: Closeted Lesbian.
Social Status: As the head cheerleader, Rachel is very popular. She acts like an egomaniac but inside she is afraid of coming out.
Stereotype: The mean, girly-girl.
Talents: Singing, Cheerleading, Persuading, Swimming.
Flaws: Dancing, Math.
Personality: Mean, cruel, negative, girly, dramatic.
Description: Long brown hair, hazel eyes, 5'8", 140 pounds.
Audition Song: 'Best Friend's Brother' by Victoria Justice.
Favourite Artists: Madonna, One Direction.
Background: Rachel comes from a wealthy family, which gives her and excuse to be cruel to others. Her dad is usually at work, leaving Rachel's mom to care for her and Rachel's older sister, Lily.
Portrayer: Victoria Justice.
NOTE: I would love for Rachel to sing 'Give Me All Your Lovin' by Madonna at some point in the season.