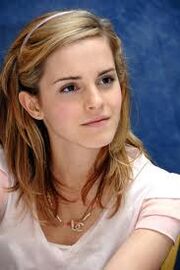 Megan Davis (known as Meg) is a character in BrittanaAndKlaineLover's fanfic "Vocal Fusion." Meg, created by UnknownPerson123, has yet to make her first appearance in Glee: Vocal Fusion.
Original InformationEdit
Full name: Megan Davis
Nickname: Meg, Megan, Maggie
Age (must be 15-17): 15
Grade: Sophomore
Gender: Female
Sexuality: Straight
Vocal Range: Tenor
Social Status: Popular
Stereotype: The Nice Girl
Talents: Helping people, managing, academics, singing
Flaws: Rejection, hatred
Personality: Sweet, kind, helpful, smart, trustworthy, independent
Description: Brown hair, dark brown eyes, pale skin, slim
Audition Song: Someone Like You - Adele
Favorite Artists/ Music genre /bands etc: Katy Perry, Adele, Lady Gaga, 1D
Background: She moved here from England a few months ago, she left her boyfriend there. She is still upset about the break up but moved on with her life. She can get everything she wants because she 's very rich but she don't want which made her independent and not spoiled.
Portrayer: Emma Watson ( with the long hair)