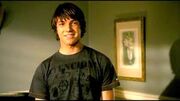 Matthew Ross (known as Matt) is a character in BrittanaAndKlaineLover's fanfic "Vocal Fusion." Matt, created by Mcspark100, was an auditioned character for the unaired Season 2 of The Kenton High Songbirds universe. He first appears in Season 1, Episode 2 of Glee: Vocal Fusion
Original InformationEdit
Name: Matthew Ross
Nickname: Matt
Age: 16
Grade: 11
Stereotype: Jock
Sexuality: Straight
Personality: He is an average guy; charismatic and kind hearted, as well as popular around school. He often uses sarcasm and humor to mask his inner vulnerability, mostly the vulnerability he has over his recently found revelation that he has been diagnosed with testicular cancer. As time goes by he continuously grows more bitter as his symptoms increase (i.e. hair loss, testicular removal, and energy depletion) and his life begins to fall apart at the seems (His mother's depression, being kicked off the football team, receiving unwanted sympathy, and loss of his popularity) He also grows more brooding and withdrawn.
Talents: Singing, guitar playing, football (Running back), delivering one liners.
Description: 5'9", average build, Caucasian, thin, moderately good looking, hazel eyes, short brown hair. After going through Chemotherapy he loses his hair and slowly develops a sickly pale complexion.
Extra Info: He had a relatively happy childhood, upper class family, a little sister (Allison currently 12) and a single mother (father died in 9/11 while on a business trip)
Music Style: Country/ Classic Rock
Portrayer: Chris Massoglia
Audition Song: I'm Yours- Jason Mraz
In Glee: Vocal FusionEdit
In Season 1, Episode 2, Matt meets Charlie John Berry and Tristan Samuel Cresthill when the pair are walking to class. Matt has heard that they auditioned for Glee Club, and was thinking about auditioning too. CJ and Tristan encourage him to audition as well, saying "you need to do that. It's going to be awesome" and "I heard you singing, you're amazing." Matt decides to audition and leaves for class. Matt auditions after Nathan Tyler Cosman, singing "I'm Yours" by Jason Mraz and playing guitar. His performance is cheered by staff and students, and Mr. James Holloway is very impressed, babbling "That was awesome, Matt! God, you're all so talented!"