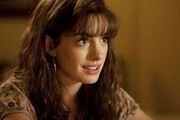 Ms. Margarette Mapp is a character in BrittanaAndKlaineLover's fanfic "Vocal Fusion." Margarette, created by Theunitedstateofme, made her first appearance in Season 1, Episode 1 of Vocal Fusion
Original InformationEdit
Full Name: Margarette Mapp
Age (20+): 27
Gender: Female
Sexuality: Straight
Family: none
Relationship: unknown student (or you could choose)
Appearance: 5'5, long, wavy, dark brown hair, hazel eyes, always smiling
Day Outfit Example: long flowing skirts, lots of beads, sandals (very hippie like)
Personality: Margarette is very carefree and free-spirited. She's often cool, calm and collected. A positive thinker and peace maker
Life Story: Margarette is a free spirit. She promotes love, happiness and positivity for all. She believes in the use of marijuana because she doesn't see at as a drug and also promotes sexual acts as freedom of mind and body. One of her firm beliefs is that love knows no boundaries and transcends age and gender. Her happy-go-lucky ways, however, seem to have caught up with her. She becomes a few months pregnant (and hiding it from the faculty and students) because a much younger man, need I say, a student, is the father of her child.
Particular Talents or Interests: singing, painting, acting, writing poetry and short stories, novels and songs, rolling a mean joint (lol)
Subject: Art
Quote from your character: "Yes, yes! Peace will guide the planet, and love will steer the stars!"
Celeb Portrayer: Anne Hathaway
In Glee: Vocal FusionEdit
In Season 1, Episode 1, Margarette is shown to be rather free and breezy, greeting the new principal with a hug and welcoming Mr. William David Hall to the "beautiful school." Hall is taken aback by this and rather shaken by her forward behaviour. Nonetheless, after exchanging pleasantries, they allow each other to call them "William" and "Margarette." They are interrupted by Mr. Patch Princeton Evans, who wishes to direct the Glee Club, and Hall breaks away to speak with him.