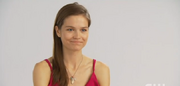 Kitty Cole is a character in BrittanaAndKlaineLover's fanfic "Vocal Fusion." Kitty, created by Theunitedstateofme, made her first appearance in Season 1, Episode 2 of Vocal Fusion.
Original Information:Edit
Name: Kitty Cole
Age: 16
Clique: Artists, Glee Club
Sexuality: Straight
Appearance: 5'9, shoulder length dark brown hair with bangs, brown eyes, tan skinned (referred to by many as the bronze goddess), thin framed, often seen wearing summer dresses and clogs
Personality: Kitty is very carefree and free-spirited. She's often cool, calm and collected. A positive thinker and peace maker. It sometimes bothers her though, that her boyfriend Pancho states that he's the reason why she is now in the popular circle and would've always been an unknown if it weren't for him.
Talents: Singing, Playing the Acoustic Guitar, Arts and Crafts
Weaknesses: Her relationship with Pancho
Audition Song: Anyone Else But You by The Moldy Peaches
History / Background: Background: Kitty is a free spirit. She promotes love, happiness and positivity for all. She believes in the use of marijuana because she doesn't see at as a drug and also promotes sexual acts as freedom of mind and body. One of her firm beliefs is that love knows no boundaries and transcends age and gender. Her happy-go-lucky ways, however, seem to have caught up with her. She is a few months pregnant, but not with her boyfriend. A much younger boy, possibly a freshman is her baby's father. Upon the revelation of Pancho's true nature and sexuality, she accepts him with open arms and they soon become best friends.
Additional Info: She likes to randomly whip out her acoustic guitar and sing for people. She's does many charitable deeds and loves helping others out. Referred to as the Bronze Goddess at times. Her pregnancy later on hinders her from doing certain things and people criticize her for having been knocked-up by a freshman.
Portrayer: Jane Randall
Favorite Music Style: Slow Rock and other mellow/ chill music
In Glee: Vocal FusionEdit
In Season 1, Episode 2, Kitty auditions for Glee Club (after Pancho Mendez), singing "Anyone else but you" by The Mouldy Peaches. She is cheered by the other students, and Mr. James Holloway calls her audition "just great." Kitty is shown to be dating fellow auditionee Pancho, who kisses her after finishing his own audition.