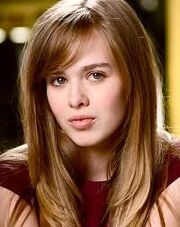 Jenny Victoria Williams is a character in BrittanaAndKlaineLover's fanfic "Vocal Fusion." Jenny, created by Lucy.quinn.fabrevans, made her first appearance in Season 1, Episode 2 of Vocal Fusion.
Original InformationEdit
■Full name: Jenny Victoria Williams
■Nickname: J, Queen J, JV
■Age (must be 15-17): 16
■Grade: Junior
■Gender: Female
■Sexuality: Straight
■Vocal Range: Soprano
■Social Status: Popular
■Stereotype: Cheerio
■Talents: Singing, dancing, gymnastics, making people feel insecure, looking good
■Flaws: self-esteem, attraction to the bad boys
■Personality: Her beauty conceals the fact of her being mean and manipulative. Her mother only gives her attention when it's to critize her, tell her what to wear or who to be. Despite the fact that she seems backstabbing she has close friends who take care of her. She has very rare, as in very rare, moments where she shows her heart
■Description: Blonde hair, hazel eyes, fair skin, 5'7, skinny legs
■Audition Song: Feels So Close by Calvin Harris
■Favorite Artists/ Music genre /bands etc: Modern Pop, Hip-Hop, RnB
■Background: Comes from a rich family who only seems perfect because they push away every bad feeling that they have. She doesn't have a good relationship with her mum as it's based on critism.
■Portrayer: Elizabeth McLaughlin
In Glee: Vocal FusionEdit
In Season 1, Episode 2, Jenny auditions for Glee Club after Kitty Cole, singing "Feels so close" by Calvin Harris. The audience listen "amazed," Mr. James Holloway calling her audition "amazing." She arrogantly replies "I know, thanks," and leaves, appearing to look down on the other auditionees.