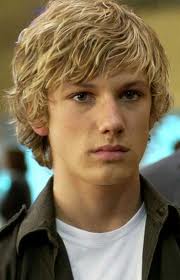 Daryl Evans is a character in BrittanaAndKlaineLover's fanfic "Vocal Fusion." Daryl, created by Mirlo, made his first appearance in Season 1, Episode 1 of Vocal Fusion.
Original InformationEdit
Full Name: Daryl Evans
Nickname: 'D', Duck
Age: (must be 15-17): 16
Grade: Sophomore
Gender: Male
Sexuality: Straight
Vocal Range: Baritone
Social Status: Popular
Stereotype: Quarterback of The Football Team
Talents: Singing, Fighting, Playing Football
Flaws: Studing, Working, Dancing
Personality: Daryl, despite being the quarterback of the football team, is very friendly with any people, especially the nerds, as it takes advantage of them to do their job and their work. Actively have sex with anyone just to get what he wants. Also he is passionate about singing, he don't want anyone to know. He is in a fight club so he is greatly feared by most students at the school
Description: Tall, Dark blonde hair, hazel eyes.
Audition Song: Set Fire to The Rain by Adele
Favorite Artists/Music Genre/Bands: The Beatles, Michael Jackson, ABBA, Madonna
Background: He was born in Amsterdam on April 7. During his early years, was everything a child would wish, his parents were millionaires who fulfilled all his wishes. Finally when he was 12 years old his father died in a car accident, leaving his family in a crisis. His uncle Finn offered to go to New York, without his mother, so he accepted. At school everyone bothered him about being the weakest, so he begins to go to fight club without permission from his uncle and begins to get stronger to impose order. He arrives to the school after being expelled from his old school for hitting all those who bothered him in the past.
Portrayer: Alex Pettyfer
In Glee: Vocal FusionEdit
In Season 1, Episode 1, Daryl is shown to be good friends with Tristan Samuel Cresthill and Charlie John Berry, the trio chatting after new principal Mr. William David Hall's first assembly of the year where it is revealed that a Glee Club is being created. They talk about how much they hated former principal Dr. Stephen Beech. The three boys talk about the new Glee Club, Daryl agreeing to audition if the others also audition. Daryl suggests the three make a deal to audition together, which they all agree to. Daryl auditions after CJ with "Set fire to the rain" by Adele. His presence is a surprise to much of the audience, as he is a jock (quarterback) and very popular. His singing is met with standing, cheers and applause, and Mr. James Holloway is amazed, saying "Wow, that was mindblowing! I didn't know you could sing." Daryl reveals that he's never told anyone that he can sing and leaves the stage.