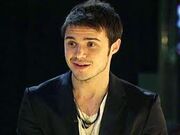 Aaron Nathaniel Lyons is a character in BrittanaAndKlaineLover's fanfic "Vocal Fusion." Aaron, created by SamcedesandKlaineForever, has yet to make his first appearance in Glee: Vocal Fusion.
Original InformationEdit
Aaron Nathaniel Lyons
ND
age 16 and sophmore

male
openly gay
appearance: He is tall and has hazel eyes. He has a clear face no blemishes. He has a Mike Chang body frame. He has short brown hair.
He dresses all preppy. You know with the vests and ties. That sort of thing. He likes to wear those Clark Kent glasses.
Aaron is a smart, tell you how it is type of guy. He is a great, funny, loyal friend and he'll always be true. He is good @ advice.
Aaron has a twin sister Arielle who goes to an all girls school. Aaron and his sister live with single mom Hannah. Hannah and Arielle totally support Aaron's sexuality. Aaron's father died when he was 5. Aaron has a gay uncle named Owen, that is Aaron's biggest supporter. He was diagnosed with dyslexia at the age of 7.
strengths: glee, acting, reading, writing( he wants to be a director)
weaknesses: bullies, his dyslexia, rejection
vocal range: like Artie but lower
audtion song: Good Life-One Republic
other songs: Mad World-Gary Jules, Fireflies-Owl City, Cough Syrup-Young the Giant, Party Rocking Anthem by LMFAO
potrayer : Kris Allen